310-784-2464
Fax: 310-517-0899
1320 Storm Parkway, Torrance, CA, 90501
As the originator of the Versa Stage product line, All Access is a full-service staging company that has served the entertainment industry since 1991. The cornerstone of our business is our stage structures, and our technical design team can handle any fabrication project, including custom scenery, flooring, integrated LED lighting, and more. We also stock a range of electro-mechanical effects from stage lifts to curtain and drape effects.
Email

Find us also under
Equipment Suppliers
,
Lighting Rentals
, and
Scenery Rentals
.
Follow us on Twitter

Become a fan on Facebook

Follow us on YouTube

Connect on LinkedIn

Follow us on Instagram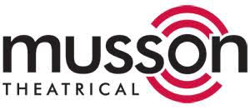 408-986-0210
890 Walsh Ave, Santa Clara, California, 95050
Musson Theatrical specializes in lighting, sound, scenery, rigging, drapes, and special effects for all live and broadcast entertainment applications. We are one of the largest suppliers in the nation and typically supply directly from our own warehouse stock brands such as ETC, Rosco, Altman, Shure, Apollo, Countryman, Phillips, City Theatrical, Lex Products, Ultratec, JBL, CITC, and many others. Our convenient online store makes shopping easy, and keeps pricing competitive. Shop Musson Today!
Email

Find us also under:
Lighting Equipment & Supplies
, and
Equipment Suppliers
.
Follow us on Twitter

Become a fan on Facebook

Connect on LinkedIn

Follow us on Pinterest

---
727.327.0557
579 27th Street South, Saint Petersburg, FL, 33712
Best Audio Visual is a full service audio visual rental and special event production facility providing leading edge hardware, creative and technical solutions. Established in 1980, Best AV has traveled the world supplying quality staging and production services to the finest hotels, resorts and corporate Fortune 500 clients from our local Tampa Bay, Orlando area and coast to coast. The experience of executing hundreds of projects from the most complex multi-media extravaganza to a simple power point presentation, has given our staff the confidence and expertise necessary for exemplary performance. We seek a long-term, strategic relationship with our clients in order to achieve the most appropriate and creative approach to their individual, often unique needs. Whatever your needs are, plasma rental, LED or stage lighting, LCD projector, line array audio system or other audio visual presentation equipment, event management, media development and production, parties.
Email

800.344.2489
859 South Cottonwood Road, Walnutport, PA, 18088
Email

877.323.5189 (Local: 214.821.8706)
4001 East Side Avenue, Dallas, TX, 75226
Email

773.265.1100
Fax: 773.265.0800
328 N Albany Avenue, Chicago, IL, 60612
Full service design, service, supply, rental, and event services. From gel, tape, and paint to full dimming and control systems - From renting an ETC S4 to Mac700s and a Road Hog - We can help you. Contact us today!
Email

951.259.6025
211 East High Avenue, Redlands, CA, 92374
Every event is a unique opportunity for the process of creation. At Event Design Lab, we work with you and your vision from the imagination into reality. With more than a decade of design experience behind us, with the support of an innovative and effective staff with an exceptional degree of technical expertise, we are successful at helping clients achieve their event goals. Sound, Lighting, Video Projection, Lasers, Trussing, Staging, and Event Design.
Email

877.637.8733
Fax: 877.637.8733
10702 Hathaway Drive, #2, Santa Fe Springs, CA, 90670
Complete Production services including staging, trussing, seating, runways, lighting, audio, video, and more

734.507.1177
There are hundreds of sound & lighting companies in the U.S. The detail that separates us from them is the youthful and contemporary outlook that we have for every event! If your organization is looking for an average sound & lighting company, then perhaps MSL is not the best choice, but if you are looking to turn your at-bat into a grand slam then look no further!!
Email

203.767.6120
9 Partridge Drive, Monroe, CT, 06468
We are a full service Lighting, Sound, and Video Rental and Design/Integration supplier in the Southern Connecticut region. Over 20 Years in Business in Connecticut. We provide engineering / production services for concerts, theater, Special Events, Festivals and Business. We work indoors or outdoors with venues supporting up to 5000 attendees. We can provide lighting effects, fog machine, strobe light, mirror ball, Gobos, moving lights, and truss. Public address systems, outdoor sound, pro audio sound, pro sound and lighting, audio visual equipment rental, wireless microphone rental, concert sound system, follow spots, video projector and screen rentals. See our web site for past projects, Rental Equipment Lists, and lots of pictures.
Email

250.868.3333
1250 Ellis Street, Kelowna, BC, V1Y 1Z4, CAN
Audio Visual (AV) services, equipment rentals, and staging. Services include theater, live event, broadcast, screens, lighting, sound, for conferences, conventions, concerts and more. Locations in Vancouver Canada.
Email

855-515-TLSP (8577), 810-220-TLSP (8577)
78 Jackson Plaza, Ann Arbor, Michigan, 48103
Design, Lighting & Rigging Production Rental & Sales of Lighting & Rigging Equipment.
Email

215.956.0328
244 E County Line Rd. #3B , Hatboro, PA, 19040
For over 30 years, Zeo Brothers has been proudly providing sound, lighting, staging, etc. for a multitude of concerts, shows, theatrical productions, and events of all kinds.
Email