248-385-2068
4296 Sugar Grove Ct, Troy, MI, 48098
Prop and Scenery Lights, LLC helps create innovative lighted props, scenery, signs and displays by supplying a variety of specialty lighting products. Our products range from unique LED effects lights to cable and controls for low voltage and battery operated systems. We support a variety of customers from film studios to amateur enthusiasts. Visit our website for a continuing stream of new and unique lighting sources, accessories, and materials.
Email
Follow us on YouTube

614-299-0922
Fine Home Designs & Displays has a unique collection of display pieces for your every need: decorative wall accessories, display furniture, glass domes, shadow boxes, turntables, and so much more. Whether you are looking some pieces to enhance a set design, display memorabilia, production items or awards (that Tony you just won) in your lobby or home, Fine Home Designs & Displays is your source for that largest variety of display, decor & fashion accessories!.
Email

Follow us on Twitter

Become a fan on Facebook

818.207.6999
8465 West Sahara Ave #111-266, Las Vegas, NV, 89117
HOLOCUREN supplies over 30 tools and equipment pieces for cutting foam props and sets.
Email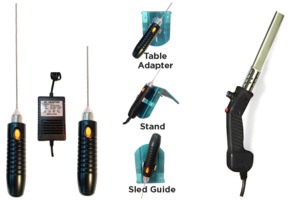 Hot cutting tools for foam, fabric and wax at affordable prices.
Hot Knives
Hot Wire Tables & BIG Bows
SIP Panel Groovers
Bendable Wire Tools
Fabric & Rope Cutters
248-385-2068
4296 Sugar Grove Ct, Troy, MI, 48098
Prop and Scenery Lights, LLC helps create innovative lighted props, scenery, signs and displays by supplying a variety of specialty lighting products. Our products range from unique LED effects lights to cable and controls for low voltage and battery operated systems. We support a variety of customers from film studios to amateur enthusiasts. Visit our website for a continuing stream of new and unique lighting sources, accessories, and materials.
Email

Follow us on YouTube

810-229-6666
4980 N. Dickenson Rd , Coleman, Michigan, 48618
Tobins Lake Studios provides affordable theatrical backdrop and drapery rentals along with Easy Armor and Easy Ornament vacuum formed plastic props.
Email

Find us also under
Scenery Rentals
, and
Adhesives, Epoxies & Pressure Sensitive Tapes
.
Become a fan on Facebook

---
860-816-2671
505 Johnson Avenue, #16, Brooklyn, NY, 11237
AchesonWalsh Studios is a production design studio providing design, fabrication, direction and performance services. Founded by Matt Acheson and Fergus J Walsh, AchesonWalsh Studios produces high quality, hand-made puppets, masks, sets and specialty props. We work in all scales from miniature worlds to arena spectacles, and across all mediums including theatre, film, commercial and educational productions.
Email
Become a fan on Facebook

305.953.9300
Fax: 305.749.8099
PO Box 5800, Miami Lakes, FL, 33014
We are the wholesale resource for Realistic Display Foods and Drinks.
The Largest Manufacturer and wholesaler of Realistic Display Foods and Drinks. Over 600 items.

724.639.8523
422 Point Street, Saltsburg, PA, 15681
Unique and hard to find collectibles and knick-knacks ideal for props and set decoration.
Contact Us
Become a fan on Facebook


Follow us on Pinterest

937.236.8315
33 Commerce Park Drive, Dayton, OH, 45404
Custom cut 2D & 3D foam shapes for props, displays, signs and architecture.
Email

312.265.6118
Fax: 312.242.1778
3927 N. Central Park Ave., Chicago, IL, 60618
Specializing in custom design and fabrication work for theatrical, public, private, and commercial spaces, Kinc has made its mark by delivering standout pieces that anchor and exemplify a theme, space, or complete vision. Combining exceptional service with a deep understanding of the particular needs of each industry we serve, Kinc merges practicality with theatricality, delivering award-winning solutions that dazzle the eye, engage the mind, and lift the spirit. INDULGE YOUR INNER KINC.
Email

321.403.6677
224 Parnell Street, Merritt Island, FL, 32953
Mount This Fish Company offers fish taxidermy also known as fish mounts, fish replicas and fish reproductions. We offer full mounts, half sided mounts and fish mounts that are viewable from all sides. Our experienced staff is here to help you with the perfect prop for your production. Best of all, we can produce on those tight timelines you are accustomed to.
Email

201.222.1014
720 Monroe Street C202, Hoboken, NJ, 07030
Puppet Heap is an internationally recognized puppet shop and character design studio whose work has appeared in such Broadway productions as Mary Poppins, The Little Mermaid and Lestat. Our work can also be seen in Silver Dollar City and Disney's theme parks. We specialize in bringing innovative, iconic characters to life for the theater as well as film, television, print and the web. Please contact us to discuss how we can put our imaginations to work for your next production.
Email